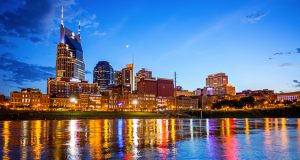 Are you itchin' to hit the road and have some fun!  Now is the time book your seats for HANK's "Dash 2 Nash"…a special 4-day, 3-night trip to Music City USA!
When: April 18th – 21st, 2019.  Special thanks to La-Z-Boy Home Furnishings and Decor!
Includes: Deluxe motor coach transportation from Madison, hotel accommodations in downtown Nashville, a private lunch party concert at Record Company Headquarters in downtown Nashville, and a  Saturday night performance at the Grand Ole Opry!  Plus, plenty of free time to explore Nashville's historic Broadway area, featuring dozens of clubs showcasing live music every night!
BOOK NOW, RIGHT HERE: CLICK HERE to reserve your spot for this exciting getaway for just $999 per person (double occupancy).
If you have any additional questions, you can email Super Dave Ogden at superdave@q106.com or call 608-441-3724.
Here are some important details to keep in mind regarding your trip:
The trip will depart from Madison at 7am on April 18, 2019 (meeting at the Dutch Mill Park-n-Ride location at 4 Collins Court, just off W. Broadway and Stoughton Road in Madison).
Deluxe motor coach transportation will be provided (including wi-fi + bathroom).
Your hotel will be located in downtown Nashville .
Tickets to the Saturday, April 20, 2019 performance at the Grand Ole Opry are included in your package.
Any additional dining on the trip will be your responsibility (FYI, the Clarion Downtown-Stadium will provide a complimentary deluxe hot continental breakfast buffet each morning).
The trip will head back to Madison on April 21, 2019 at 9:00am .
All spots are non-refundable and any transfers will be subject to deadlines required by participating parties.